Best Dental Implant Clinic Dubai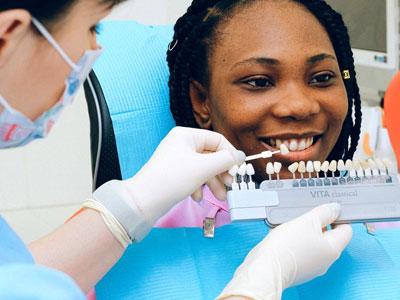 Smart Smile Dental Care Centre is the best Dental implants clinic dubai that follows the best procedure by surgically inserted into the jawbone to replace the form and function of missing natural teeth. The implant will be inserted into the created hole, which will serve as a strong foundation for the dental restoration, using a dental drill to cut a hole through the gums and jaw bone.
What are the benefits of Dental Implants?
Dental implants always have a root. Additionally, this root is crucial for your oral health as well as the anchor. In the bone, dental implants serve as fixtures to replace missing teeth. Implants can offer long-term benefits and have a high percentage of success. Here are some areas of oral health that the best dental implants dubai may affect.
Stops Bone Loss
Dental implants promote blood flow around the jaw bone, which strengthens the local tissue. And as a result, it stops the nearby bone from eroding.
Prevents Tooth Displacement
When a tooth falls out, you should get a replacement. This is due to the neighbouring teeth eventually starting to move to close the gap. As a result, as time goes on, even your innate alignment will change, leading to greater aesthetic issues.
What are the types of Dental Implants Procedure?
Your periodontist at Smart Smile Dental Care Centre, the best dental implants clinic Dubai will develop a treatment strategy that is specifically catered to you based on your unique condition and the kind of implant you decide to use. Depending on your circumstances, the following treatment plans may be an option:
Single Tooth Dental Implants: Dental implants for a single tooth can be used to replace a single lost tooth.
Multiple Tooth Dental Implants: Dental implants that can replace several teeth can be used if you are missing many teeth.
Full Mouth Dental Implants: Full-mouth dental implants can replace all of your lost teeth if you are missing all of your teeth.
Sinus augmentation: This issue can be resolved via sinus augmentation, which raises the sinus floor and creates bone that can support dental implants.
Ridge modification: Ridge modification has been demonstrated to significantly enhance the jaw's look and raise the likelihood that implants will be successful. The gum is pulled away from the ridge to reveal the gap where the bone is lacking in order to fix the issue. After that, bone or a bone substitute is used to fill the space in order to create the ridge.